Featured Products & Services
Induction Loop Assistive Listening Systems

We areCertified for the design and installation of all types of Induction Loop hearing assistance systems by Williams Sound, Listen Technologies, and Ampetronics. Those who wear hearing aides with T-coils hear more clearly without the need for receiver packs or headphones.

ULTRACLAMP, ULTRAMOUNT, ULTRAPOD

Looking for a new Microphone Podium Clamp or compact table tripod?
The new Ultraclamp is a powder coated aluminum alloy clamp measuring only 2.25"x 3.25" x 1.125". It has a max. jaw opening of 1.5", and with a 1" cork disk and a rubber coated base, it will not mar sensitive surfaces. It can clamp to flat or round objects, and can be used with the Ultramount or Rowi ball & socket heads.
The Ultrapod I & Ultrapod II are compact, light weight, stable mini tripods with a ball & socket head. The unique Velcro strap allows it, when closed, to be attached to a round object (stand, tree limb, etc.).

The Ultramount is a ball head with 1/4-20 top & bottom threads. It can rotate on the Ultraclamp at 45 degree indexed increments
Ultrapods & Ultramounts are injection molded from fiberglass reinforced nylon with aluminum threaded components.

THE IFB SOURCE is our web site devoted to IFB earppieces, Hi Fi Earphones, and electronics. Several lines of earpieces are available as well as amps, wireless, telco interfaces, and more

Check out our new and very cool mounting system to help you mount anything, anywhere. Lights, Cameras, Mics, Cell Phones, PDA's, GPS, Laptops, etc. - on Stands, Grids, Cars, Bikes, ATV's, Boats, Aircraft, etc.

ATS-Ram Mounting System for production work - Boom Pole, Mics, Lights, Cameras, Antennas, etc.
Ram Mounting System for vehicles

PELICAN CASES & FLASHLIGHTS - I have carried Pelican cases for years, and many production folks in the D.C. area appreciate being able to drop by and try out every size case to find the best fit for their gear. Personal service, check the fit before you buy, and at very competitive prices. If you are not in the D.C. area, call me to discuss your size needs and for pricing I'm sure you'll be pleased with.

MULTI-MIC HOLDERS FOR PRESS CONFERENCES - With the Yoeman 17 on a stand or podium, you can neatly hold up to 17 microphones with flags without the need for clips, goosenecks or clamps. Perfect for press conferences. Smaller holders are available for 3, 5, and 7 mics with clips.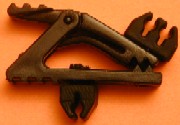 RKR MICRO CLIPS - UNIVERSAL LAVALIERE MIC CLIPS - This universal clip will securely hold the wire of any lav mic from 0.8mm to 1.5mm or 1.5mm to 2.5mm. Available in black or white. Only $3.00!
A magentic mount is only $10.00.

AC-CETERA - Mic-Eze mic stand clips, Rubberneck Goosenecks, and Lumin-Eze portable work lights

K-TEK MICROPHONE SHOCK MOUNTS - High quality shock mounts and unique accessories from K-Tek offer a different approach to microphone support. Lightweight, rugged, well priced. Check these out.

MIC-EZE, LUMIN-EZE, AND RUBBERNECK- Products from Ac-Cetera. Mic_Eze is a line of high quality clips and clamps for attaching microphones to to a variety of objects, even another mic. Lumin-Eze is a line of small DC powered work lights on clips or BNC /XLR connectors on stiff goosenecks. Rubbernecks are a line of stiff rubberized goosenecks with 5/8-27 threads (for standard mic clips). They cannot creek, will hold a heavy mic securely and com in several sizes. Also available with XLR connectors for podium use.

EARTHWORKS MICROPHONES- If sonic accuracy is your goal, you need a mic with a ruler flat frequency response and the widest dynamic range, capable of preserving all the harmonics, including those above 20kHz. If you want to do all that without breaking the bank, then take a serious look at Earthworks mics. Hand built in a small factory in New Hampshire, they are regarded by many to be among the finest mics available anywhere.

IFB EARPICES, PARTS, & ELECTRONICS - There are now two new earpieces for IFB, 2-Way Radio, and general monitoring. The Voice Technologies VT600 is a generic fit piece using standard ear tips and a HiFi transducer small enough to fit behind the ear. The Ultimate IFB is a custom molded C.I.C. (completely in the canal) piece with a full frequency micro driver embedded in the earpiece itself. We stock a complete line of parts for IFB ear sets which are compatible with Audio Implements, Telex and Voice Technologies ear sets including a a long air tube for clipping the driver at the waist.
IFB Electronics include amplifiers, telecom interfacing, dialers, wireless, and more.