NEW PRODUCT
RKR MICRO CLIPS
Retail Price only $3.00!

RKR Micro Clips are universal lavaliere mic clips. These all plastic clips suit most lavaliere microphones as they grip the mic's cable (1.5mm to 2.5mm or 0.8 to 1.5mm diameter) rather than the microphone body. They are discreetly small, with a front plate measuring 25mm x 6mm, with serrated jaws on both sides for a secure hold. The cable grip rotates, so the clip can be used horizontally, vertically or at any angle. A second grip is supplied for dual mics, and the optional rear wire retainers holds a strain relief loop.
Available in Black or White and with or without wire retainers.
Now available with Metal Spring

The High Profile model holds mic 12mm away from clip. The low profile model holds mic 4mm from clip
The Magnetic Mount has a 3/4" (metal backed) black or white plastic ring with a wire grip and a 1-1/4" gray magnetic disk. The disk has a curious lanyard slot at the top in case you want to hang it from the neck.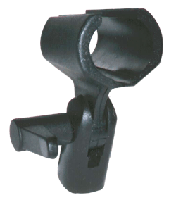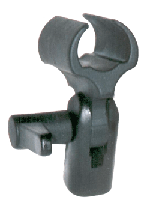 RKR Mic Stand Clips are available for conical and cylindrical bodied microphones. These hard rubber clips feature the unique pivot handle which eliminate the need for a screw driver (or pocket change) in order to tighten the pivot screw. They feature a brass 5/8 female fitting in the base.