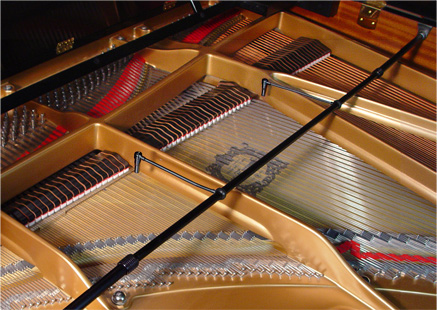 The innovative PianoMicÔ System incorporates all of the Earthworks High Definition MicrophoneÔ proprietary technologies and some new ones. The PianoMic System is time coherent and provides extended frequency response to 40kHz, incredible impulse response, very short diaphragm settling time, near-perfect polar response, high SPL handling, low distortion electronics and more.

The PianoMicÔ System is unlike any other microphone ever used on a piano. The specially designed telescoping bar spans across the piano over the strings and is supported at the ends by the piano case. Our research showed that incredible results can be obtained with the two microphones placed one-third of the way in from each side of the piano and 3 inches in front of the

hammers and 3 inches above the strings (see Figure 1-A). However, the telescoping bar can be moved so the two microphones can be placed near the hammers (see Figure 1-A) or further away (see Figure 1-B). By loosening the two clutches, the center section of the rod can be moved as much as 8 inches one direction or the other if you desire to favor either the high strings (see Figure 2-A) or


low strings (see Figure 2-B) of the piano. In addition, the flex arms attached to the microphone heads allow them to move approximately 4 inches to the left or right (see Figure 3-A) as well as up or down (closer or further from the strings as shown in Figure 3-B). This illustrates the versatility of

the PianoMicÔ System and how easily it can be adjusted to accommodate a wide range of placement options. The PianoMicÔ System uses time coherent, omnidirectional microphones with no proximity effect (i.e. the low frequency response will remain the same no matter what the microphone distance is from the piano strings). The microphones are designed for random-incidence response to obtain optimum sonic results from the sound field inside of the piano.
The PianoMicÔ System has also been designed to provide incredible sound with the piano lid either up or down. There is more air in the sound with the lid up and with the lid down the sound is more condensed, which is desirable for a number of applications such as playing or recording pop music, or when you want the piano to stand out more in a mix. A tremendous amount of gain before feedback is obtained via the proximity of the PianoMicÔ System microphones to the strings and also because of the near-perfect polar response of the microphones. Leakage from the sounds of instruments surrounding the piano is insignificant.