RUNNING WIRELESS ON FAITH?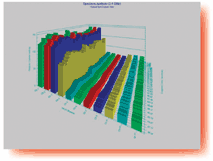 Simple scanners, such as those featured in wireless mic receivers, offer only a single, unreliable snapshot in time. Unknown transmitters can turn on and off seemingly at random, and usually at the very moment your event begins.
Our portable spectrum analyzer allows us to scan from 10MHz to 6GHZ and report on RF activity at a location over time from minutes to 24 hours or more.
We can focus on your specific frequency range of interest for your wireless mics, IFB, video, or WiFi data systems to identify which frequencies have continuous or intermittent traffic on them so you can avoid the interference they will cause.
Whether you are in a permanent facility or setting up temporarily for an event, a frequency scan can help you predict which wireless frequencies will be most reliable. If desired, we can remain on site during an event to troubleshoot frequency problems or help locate rogue transmitters.
Call us to discuss your event and location.